The share price of ANZ (ASX: ANZ) moved sideways on Wednesday as investors reacted to the latest Suncorp merger news. The stock also wavered after the latest interest rate decision by the Reserve Bank of New Zealand (RBNZ) and Australia (RBA). It was trading at A$23.34, which was ~4.70% above the lowest point in March and ~10% below the highest point this year.
RBA and RBNZ decisions
Australia and New Zealand Banking Group (ANZ) is one of the top-four banks in Australia with over A$1.9 trillion in assets. The firm has over 8.5 million customers, mostly from Australia and New Zealand. It also operates in tens of countries.
ANZ share price wavered because of two important news. First, there are concerns about the company's planned acquisition of Suncorp in a A$4.9 billion deal. The company unveiled the deal a few months ago and said that it would help it grow its market share.
However, in a statement, Australia's competition regulator warned that the deal would have benefits for consumers. As a result, the company has more work to do to convince regulators about the deal. Still, analysts believe that the deal has a high possibility of closing later this year.
ANZ share price also reacted to the latest interest rate decisions by the RBA and RBNZ. In its decision on Tuesday, the RBA decided to leave interest rates unchanged as it warned about a possibility of an economic slowdown.
The RBNZ took a different view. As I wrote here, the bank decided to hike interest rates by 0.50%, higher than the median estimate of 0.25%. It pushed rates to a multi-decade high of 5.25%.
As the biggest bank in New Zealand, ANZ Bank will likely benefit since high-interest rates will lead to higher net interest margin. The most recent results showed that ANZ's net income jumped by 16% to A$7.14 billion. Its profit margin expanded to 36%.
ANZ share price forecast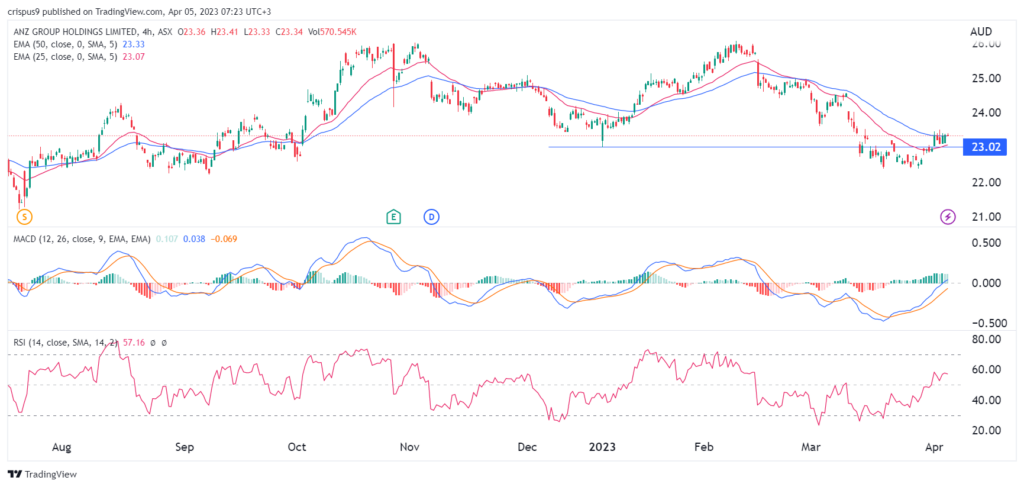 The ANZ stock price has been in a tight range in the past few days. It has managed to move to the 25-period and 50-period moving averages. At the same time, the Relative Strength Index (RSI) and the MACD are pointing upwards.
Therefore, there is a likelihood that the stock will continue rising as buyers target the next key resistance point at A$25. The stop-loss of this trade will be last month's low of $22.40.
The post ANZ share price staggers after the RBA and RBNZ divergence appeared first on Invezz.